Re: Liking a post on mobile (Mobile Skin Talk)
amplify wrote:
It may display better if you change "Location" to "HOR" or "From"; the joined date format from "M d, Y" to "m/d/y" (y as 2020 was the first year so /20 should be recognizable); and "Like This Post" to "Like Post".

It gives a bit more room to not take up 2 lines for the location (in most instances) and date when viewing on smaller resolutions.

But, it looks like it was fixed. I was confused for a minute as to why sometimes I could like something and others not, not realizing it was when I had a phone in my hand vs. when I was on the computer as I sometimes multitask side by side.
Great advice...
1. I removed the location field because it always took up 2 lines and it still displays in the members profile.
2. Only way to get date in 1 line was to short form it and remove the word joined. Don't need that anyways, it's pretty obvious.
3. Now says Like Post with a heart and Unlike if active.
Looks nice and clean, see below...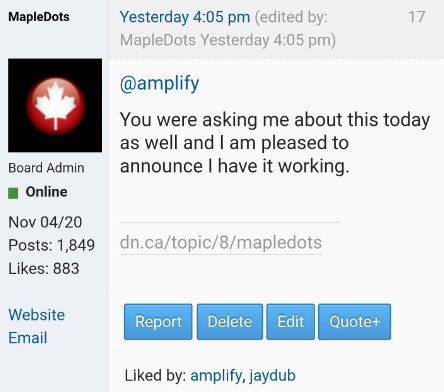 Thank you @amplify for all the suggestions for this