Community Guide
Verified Member
Boardroom Access
Joined

Nov 4, 2020
Topics

694
Posts

2,785
Likes

2,363
Market
[h]This fun game is super easy, just post your favourite word and why...[/h]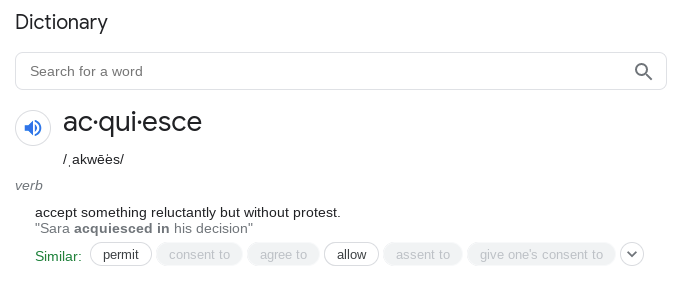 What is an example of acquiescence?
The definition of acquiescence is the act of agreeing to something by being silent. ... Acquiescence is defined as the act of giving in to something or someone, often a bit reluctantly. An example of acquiescence is
when a teacher gives in to students' requests for extra recess time.
Acquiesce Sentence Examples
He will acquiesce simply because he is a sick man.
Will they acquiesce in that sorry state of affairs?
But surely serious thought cannot acquiesce in a dual control.
The committee will acquiesce in any decision on which it is not fully informed.
You can even make the word longer with acquiescence.
In my lifetime I have never met anyone that was able to spell the word acquiescence.
I have won so many free beers at the bar it's not even funny.
NOBODY... and I mean NOBODY has ever spelled it correctly when I asked.